~ Welcome Friend! ~
Do you feel like there is a dream life + lifestyle waiting for you where you can thrive as your highest + best self, but you just don't know how to achieve it?

How long have you desired to have an organized, clean, functional, beautiful and personalized home that serves as a comforting and relaxing sanctuary and respite from the other stressors in your life?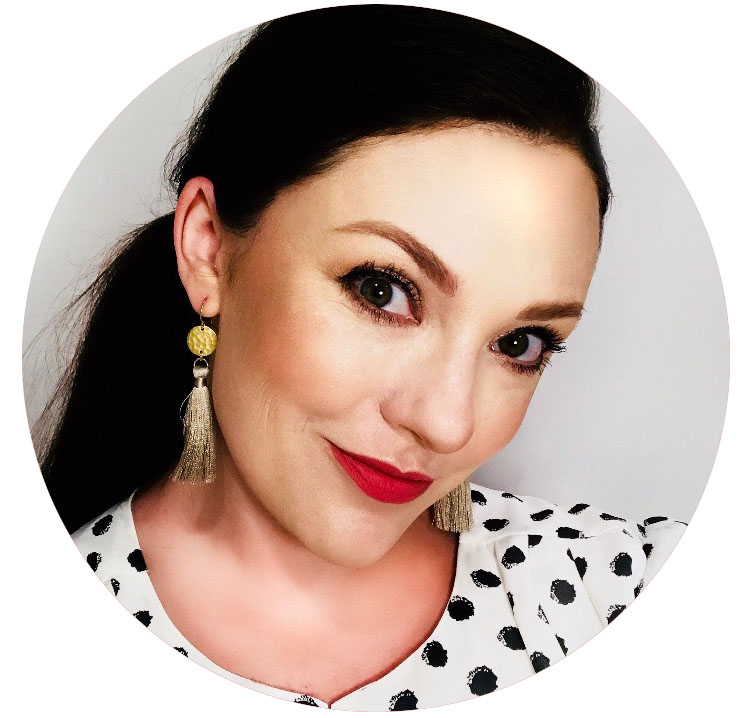 I'm Laura, your personal Home + Life Coach and I'm here to help you Enhance Your Home + Enrich Your Life.

Let me explain how I can help you - and by that, I mean
blow your freakin' mind when it comes to your home + your life!
***************
'Stylize Your Home' is an innovative Home + Life Coaching Experience unlike anything else on the market.
I will inspire and teach you how to easily and confidently transform your chaotic, dysfunctional and disconnected spaces into a home that enhances your life and brings you total joy!

My program permanently eliminates the roadblocks which are holding you back from achieving the
home + life + lifestyle you've always wanted!
~ Enhance Your Home - Enrich Your Life ~

~ Create a Home + Life + Lifestyle you LOVE! ~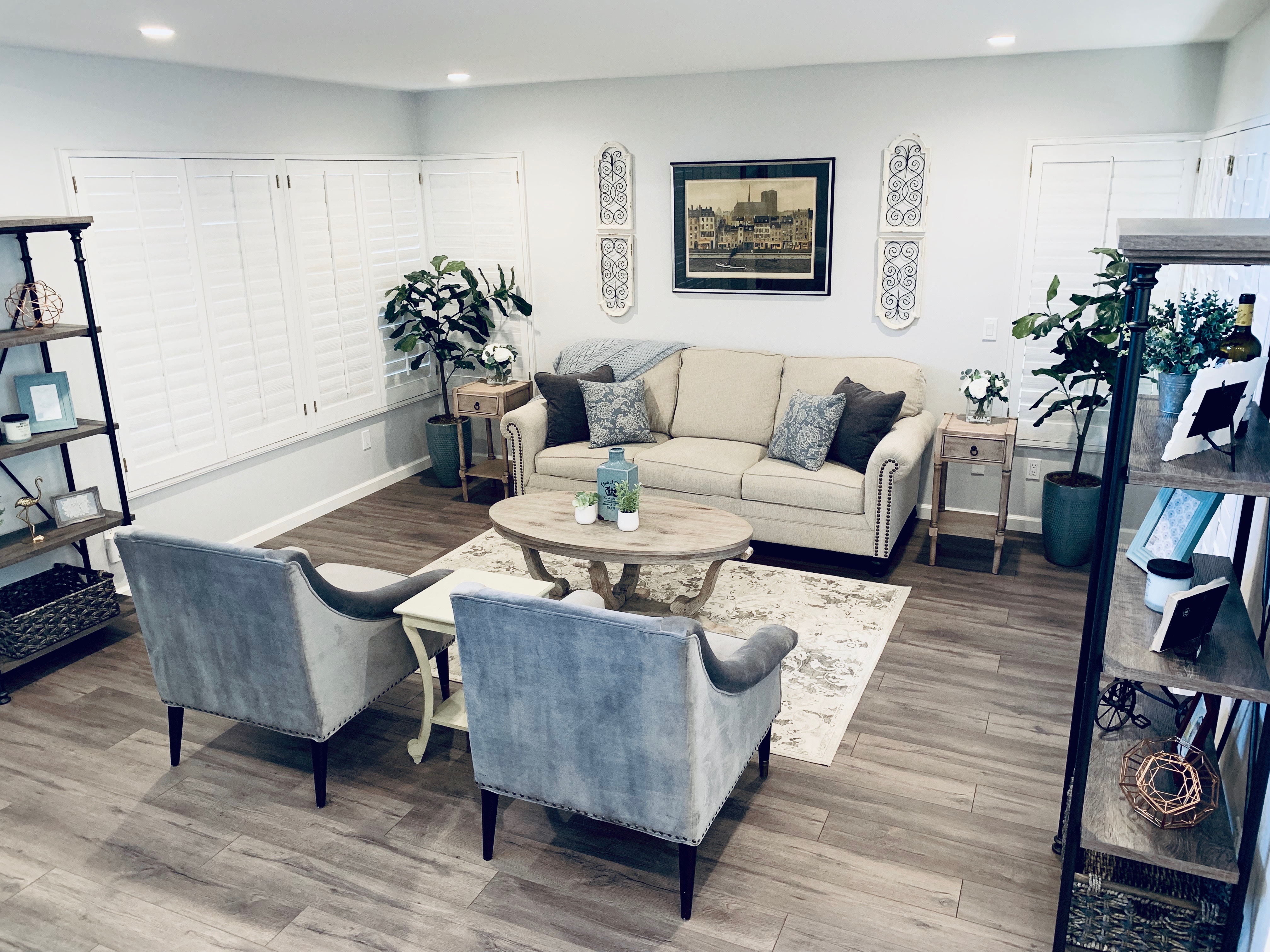 ---
Here's where it gets real interesting:
This is NOT JUST a course teaching you about the technical design elements - pattern, scale, repetition...
bleh.
In fact, it's really a program to teach you why you don't need to worry about all that because it's honestly total BS!
(Coming to you from someone who IS a professional designer...gasp!)



Sure, we will obviously be talking about the aesthetics of your space. Yes, we are going to work through my system together in order to completely transform one of your rooms, but my Program is about SO MUCH MORE my friend!
It's about gaining the absolute confidence and decisiveness required to sit in the director's chair of your home and your life and rock it like you mean it!
It's about awaking your Inner Design Star, (I promise you, she's in there,) and unleashing that magic upon every room of your home!
It's about finally doing the things you've always wanted to your home - Creating a home and life for you and your family that you've dreamed of but didn't quite know how to get!
It's about uncovering and eliminating the fear-based beliefs that are holding you back from getting the results you want for your home and your life that you didn't even know you had!
I'm talkin' total transformation of you home, yes, but also of your mindset and how you show up for your life!
Great coaches make a true lasting impact on the lives of their clients. That's why my program isn't just about teaching women about color and pattern, but it's about permanently eliminating the roadblocks you are currently experiencing that are holding you back from achieving the home and the life you've always wanted!
Can you tell I'm fired up about this, ladies!?!?! Let me tell you more:
---
Here's What You'll Get from
'Stylize Your Home'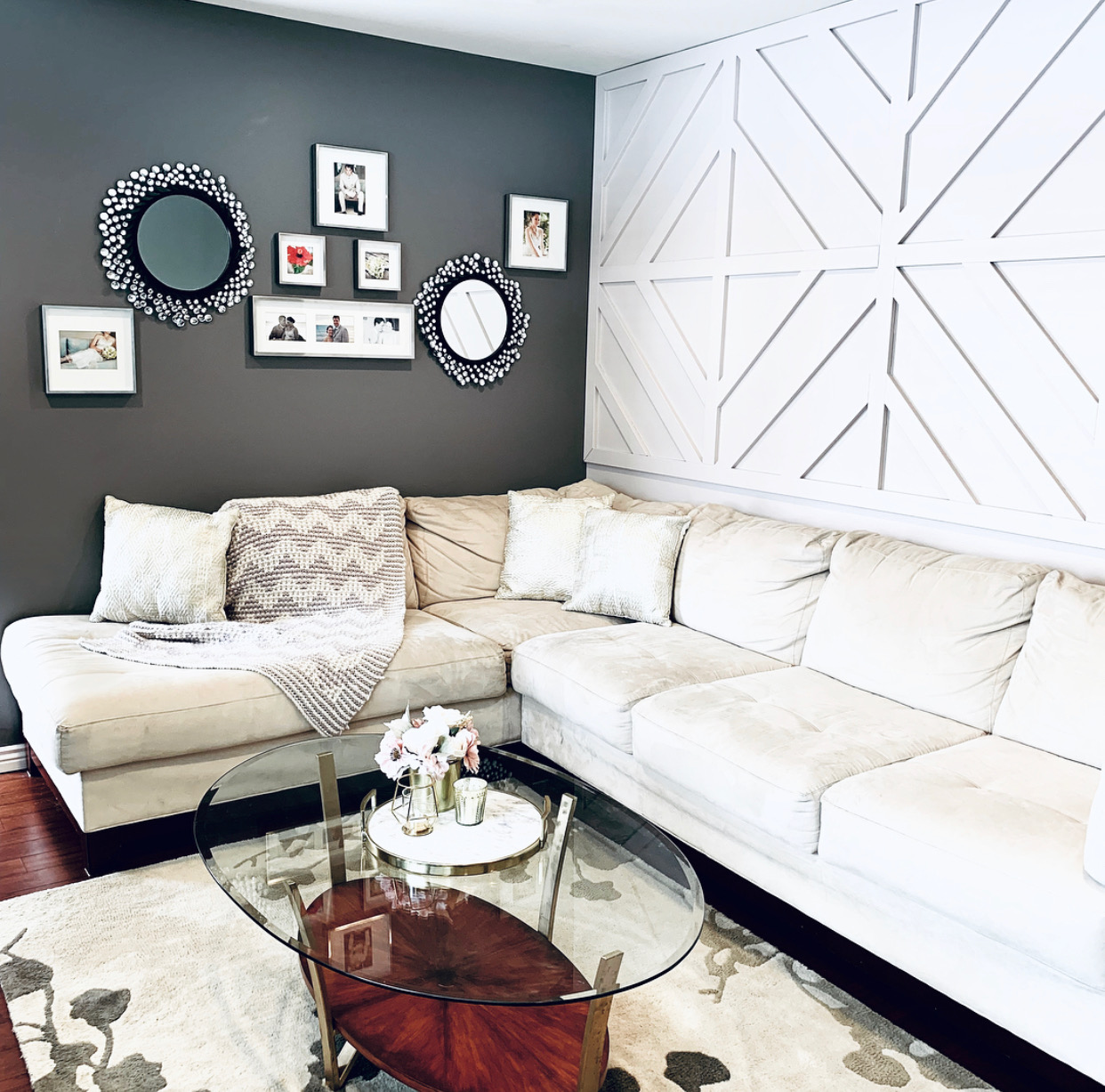 As a one-on-one coaching client, you will have up to 6 months to work through my 7 Module Course where you will learn how to transform one frustrating sore-spot of your home into the room you've always desired through the understanding and implementation of my 5 Pillar Design Process and some key mindset development. You will also have access to one-on-one personalized coaching + help. These tools will allow you to then apply your magic to the rest of your home with a clear system in place to guide you.
Your thoughts and beliefs will be completely transformed after learning why YOU are the authority when it comes to your home, not a professional designer. If you are thinking you need to be a design genius with lots of training to create the perfect space, you are wrong, my friend!
You will learn why just "making it pretty" alone is still not going to solve your problems - problems you might not even be aware of - and why my holistic approach to design is necessary in order to create a truly and deeply successful space for you and your family long-term.
---
Who is best suited for this Course you ask??
If you can raise your hand to any of these, I'm talkin' to you!!!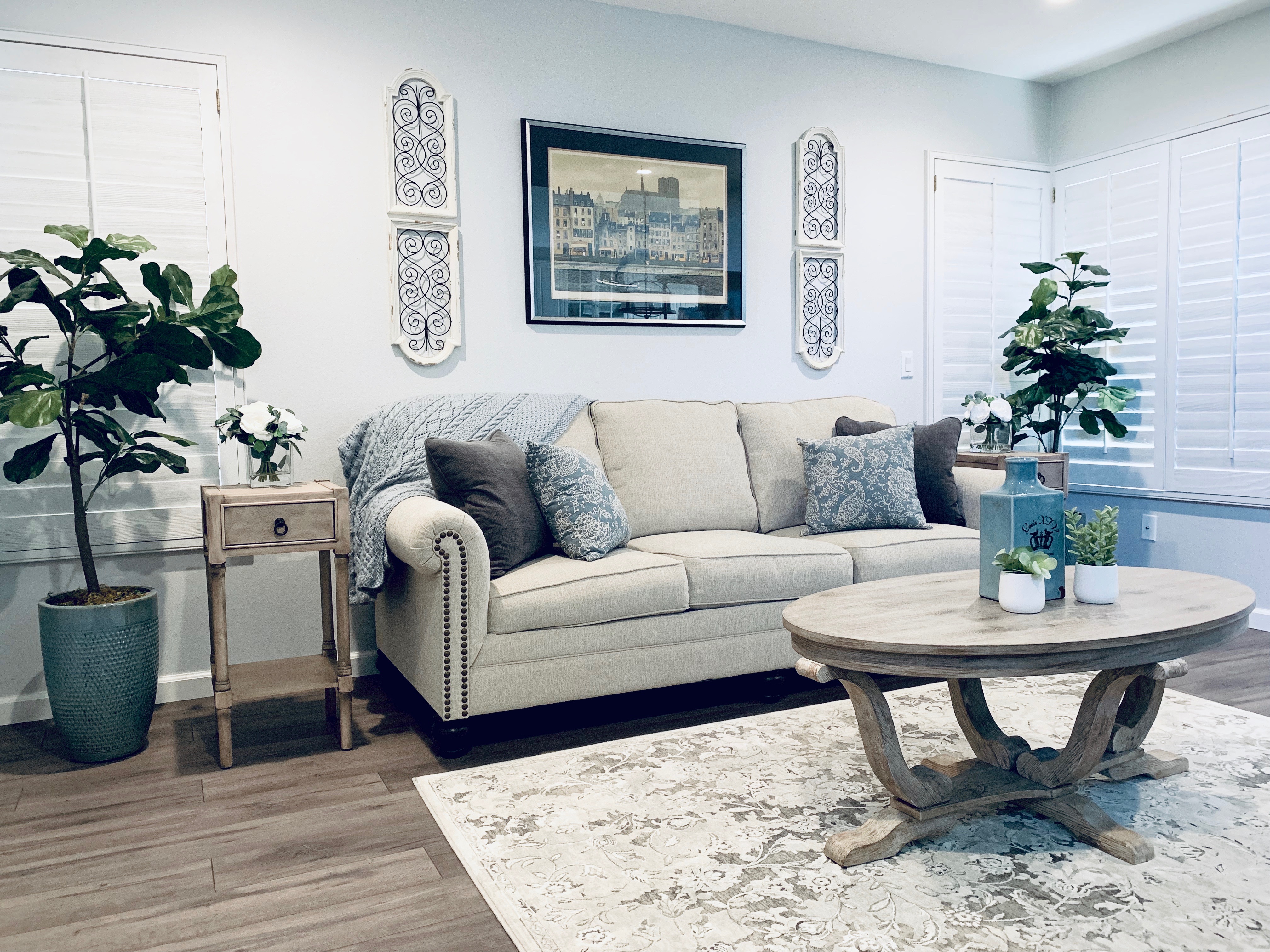 Do you feel overwhelmed and stuck when it comes to designing and decorating your home...and let's face it, life in general sometimes?
You've saved countless inspiration pictures of beautiful rooms to your Pinterest Boards, but that's as far as you've gotten. You have no clue how to turn the photo into a reality.
You are afraid of doing "the wrong things" or making mistakes because "you aren't a designer - you don't know what you are doing"
You don't even know where or how to start when it comes to modifying your space or how you use it.
You wish someone could just give you the knowledge, confidence, and decisiveness necessary to create a home you love.
You know your current home, life + lifestyle isn't matching up to your ideal dream. You know it's possible, you just need a little help getting there!
If you raised your hand to any of these, you are in luck because enrollment is open now for one-on-one private coaching with me!
---
Details About the Program: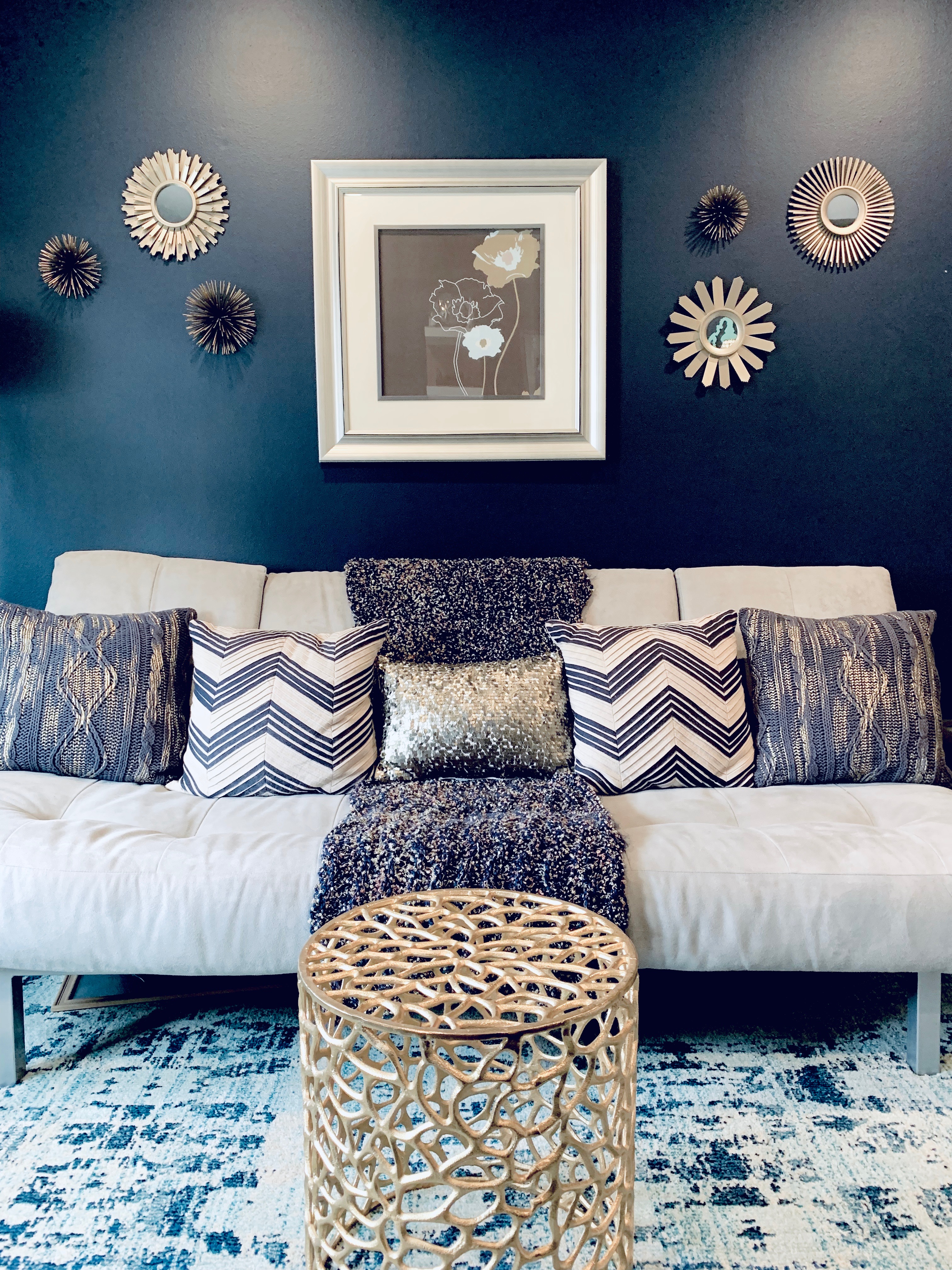 Price for the Program is one time up front payment of $797 (save almost $200), or you have the option to pay 6 monthly installments of $165 (totaling $990).
Upon enrolling, you will have access to my program and my one-on-one coaching for 6 whole months!
You will have 6 months to work through my 7 Module Program via Teachable.
As you work through the program at your own pace, we will schedule a minimum of 8 Coaching Calls based off your personal availability and schedule to help you as you work through each step and get personalized coaching along the way.
You will receive a series of Workbooks to assist you in implementing the concepts to a room of your choosing.
You will have access to the Private Facebook Group where you can ask questions, receive help, and share successes with myself and the other past + present ladies in the program on the daily.

After you've completed the program or 6 months is up, you will still have access to the 'Stylize Your Home' Private FB Group where we can continue to interact.


---
How this Course will Transform your Home and your Life: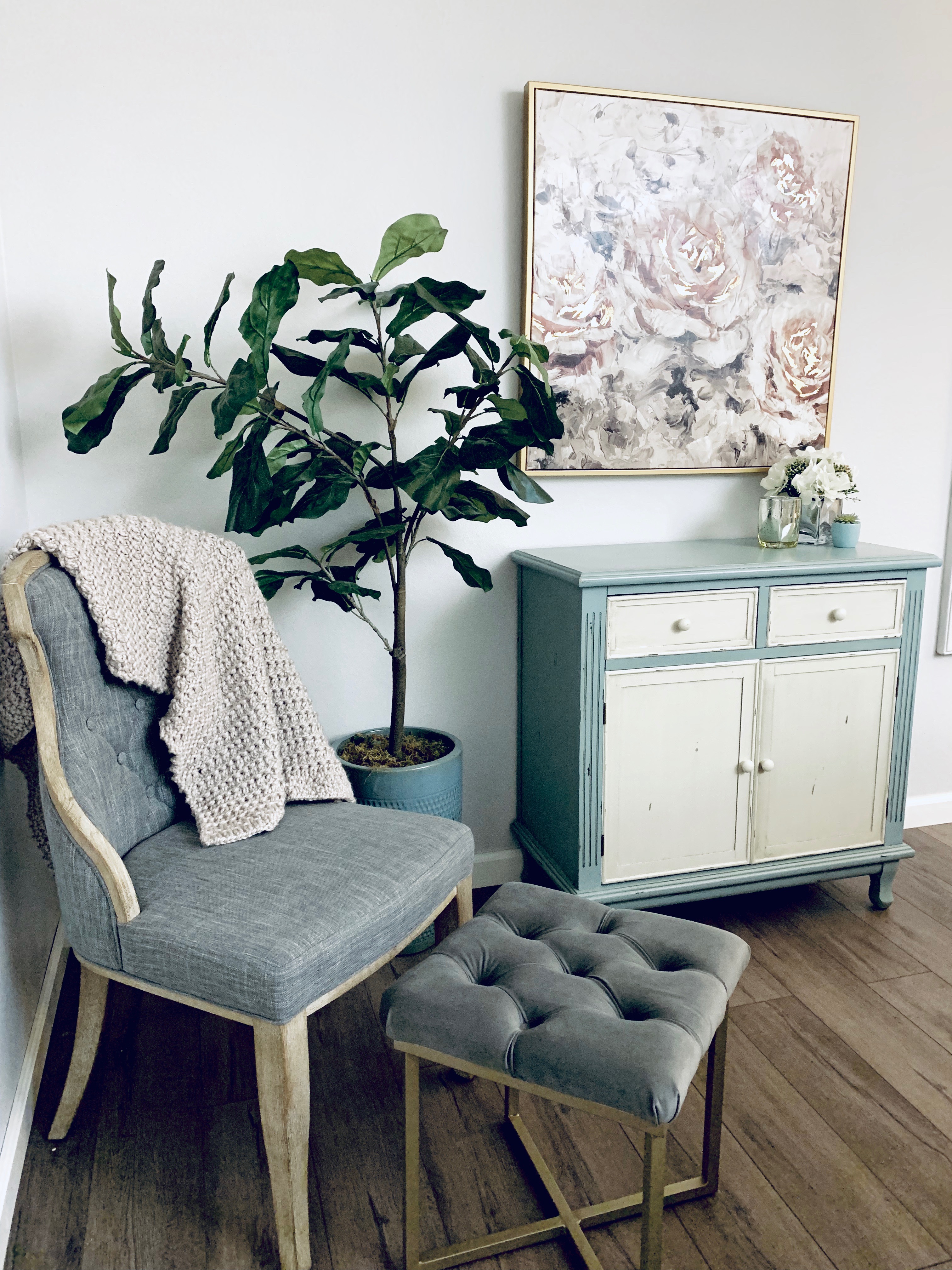 Module #1: Your Home as a Whole
Module #2: Design Pillar #1: Declutter + Organize

You will begin to identify the often overlooked and underlying issues that are causing you anxiety and stress in your home and your life.
You will discover the mind drama that makes it difficult to minimize and begin to find ease an comfort in letting some things go.
You will learn how to look at your "stuff" with a critical eye, get rid of the unnecessary items, and organize what is important.
Module #3: Design Pillar #2: Clean it Up

You will understand the importance of a "clean" home and learn tips and tricks to achieve it.
You will implement mindfulness around identifying repetitive behaviors/habits that aren't serving you and replace them with ones that do.
Module #4: Design Pillar #3: Make it Work
Module #5: Design Pillar #4: Stylize the Look: Part 1

You will discover the secrets to creating a home you love without the self-doubt and indecisiveness bogging you down.
You will learn to eliminate the roadblocks that are preventing you from creating the home + life + lifestyle of your dreams.
Basically, we release your Inner Design Star
Module #6: Design Pillar #4: Stylize the Look: Part 2

Here is where we really get into the actual aesthetics of your space - discover your design style!
We begin by learning the effective and supportive ways to source design inspiration - using Pinterest/Instagram to your advantage.
You will learn the effects different design elements may have within your space - discover what you like and what you don't like.
You will learn practical tools such as how to select the perfect paint color and furniture.
You will create a plan of how to transform the room aesthetically and begin taking action!
Module #7: Design Pillar # 5: Make it You

You will uncover what makes your home uniquely YOU and why that is important.
You will learn the simple ways to make your house a home that reflects you and your personality.
By the end of the program, you will have:
Transformed one room of your choosing through understanding and implementation of my 5 Pillar Design Process described above.
Transformed your way of thinking about purging, organizing, cleaning, designing, decorating, and personalizing your home.
The knowledge, confidence, and decisiveness to transform your entire home without the overwhelm, confusion, or fear.
Mindset tools that can be applied to any aspect of your life.
Dare I say, you might be a whole new woman with a whole new perspective about her home + life + lifestyle? Sure, I'll say it!
---
Let the People Speak! - Testimonials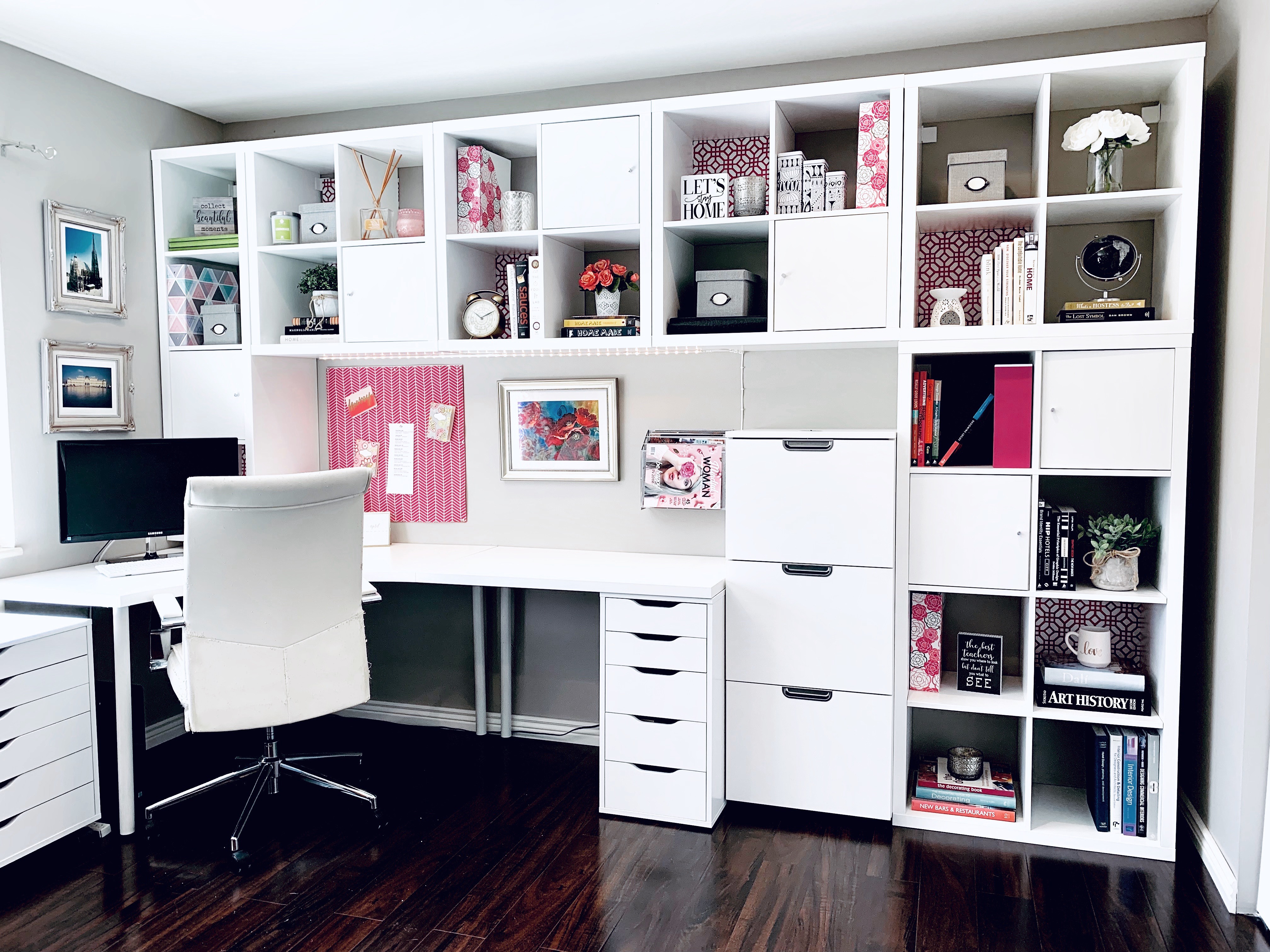 "I have to say, for the first time in a long time I am excited to come home to be in my space. It really is amazing what a little cleanup can do!" - after Design Pillar #3
"It applies to real life. It is very easy to work into a busy schedule and it can be applied to all aspects of your life. Before doing the program, my life and house was cluttered and overwhelming. It has been more organized and definitely easier to keep clean. The biggest benefit is that my husband and I can do things and make decisions better together now. It is totally worth the money! Just try it!" - after completing the program

" I loved that you were so active in the group! You were always available as well, and that is really helpful! I'm going to miss our calls and getting to share my crazy stories in a place where my husband couldn't see them! You are AWESOME. Thank you for inspiring and guiding me to create new habits! I am loving my home :)" - about yours truly
---
Why Interior Design Coaching Beats Hiring a Designer: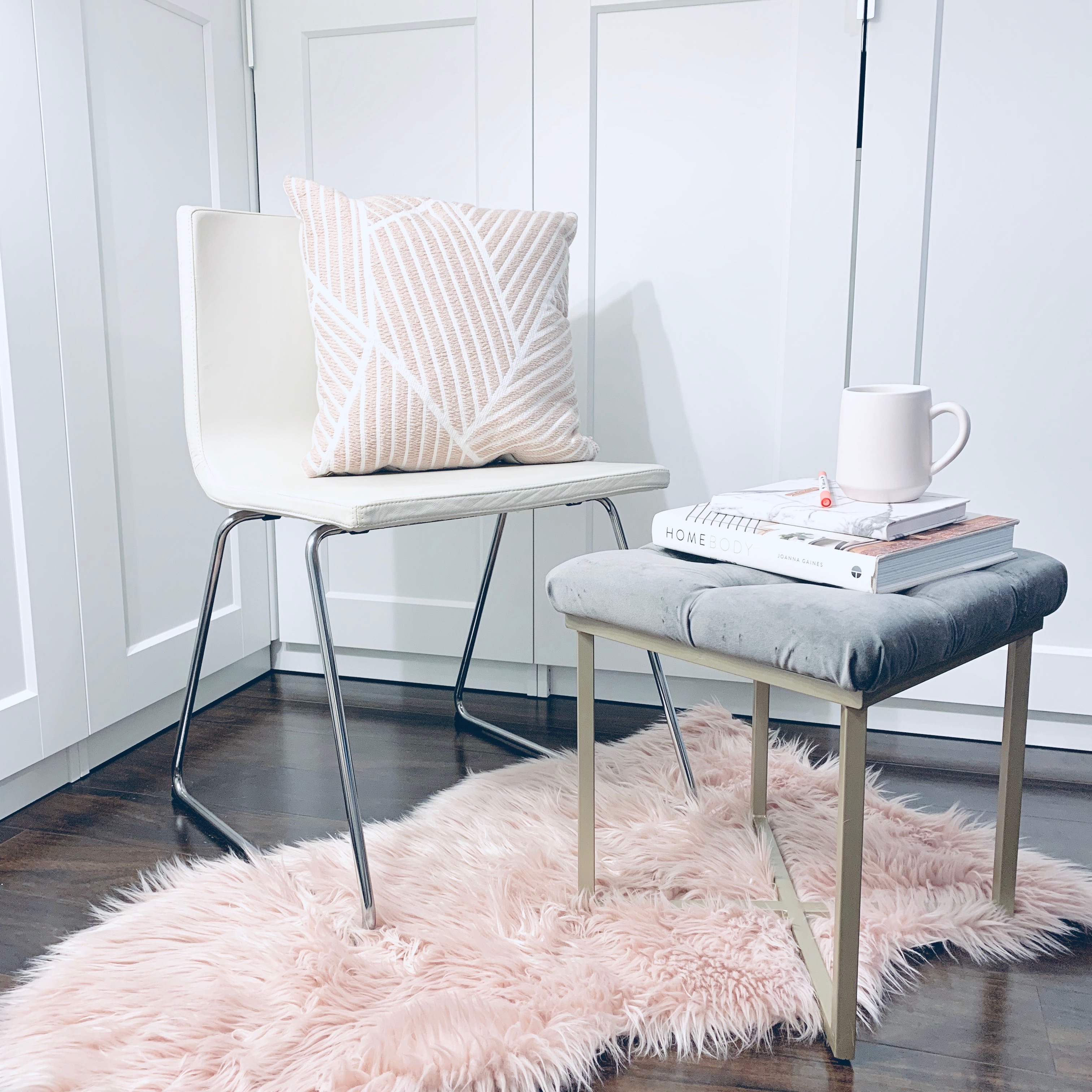 Sure, you can fork over the national average of $4,735 in design fees alone for a professional designer to come in and turn one room of your home into something visually stunning. But then what... what about all the other rooms in your home? What's going to happen to that pretty room if you continue to live your life the same chaotic, disorganized, and messy way? Did that designer really understand what YOU like, want, and need, or did they push the most expensive items of their liking on you in order to make more of a sale?

In my program, I believe in the "teach a man to fish and he eats for life" mentality. Once you learn the simple and straightforward system to achieve a space that works, you can apply it to your whole house, and not just once, but as your tastes change over time, as you move houses, etc.
I believe that the mindset shifts regarding how you view your home, how to prioritize your money and time for your home, and how important creating a home you love is to getting a life you love is far more valuable than just teaching colors and patterns. And NOBODY else is out there teaching these concepts!!!
What I'm bring to the world is a totally unique combination of a simple holistic design process that will tackle your problems from all directions with some serious mindset coaching that will result in a happier home and a happier YOU.

---
What makes me so special, you ask?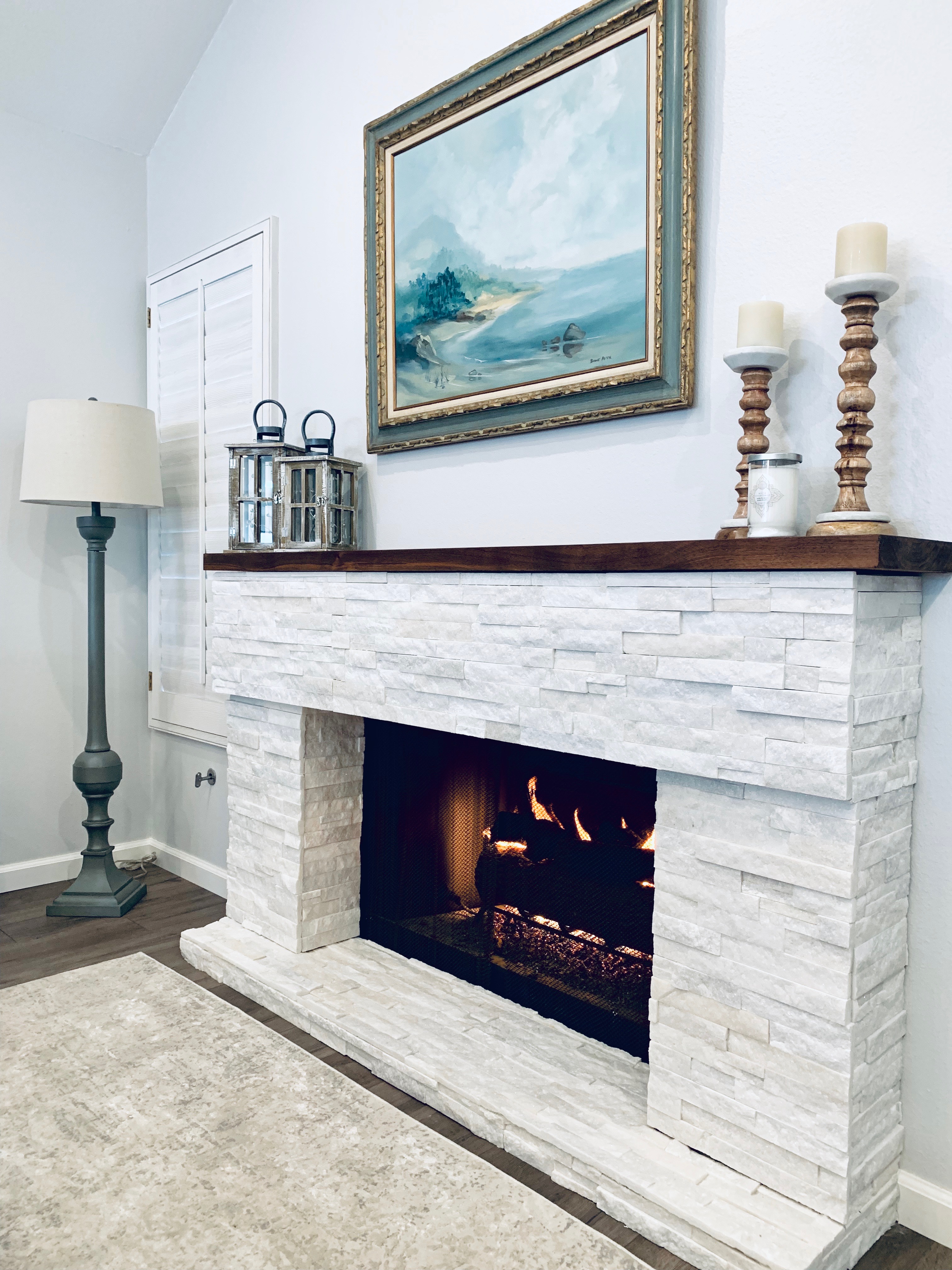 I define myself as a 'Home + Life Coach'. I see myself as a more specialized niche within the 'Life Coach' category who helps people create a life they love through teaching them how to create a home they love.
This is my personal 'genius zone' and where I can make a real difference in other women's lives because it is where all of my training, expertise and experience come into play, but it is also the exact transformation I've made for myself and my own life – I'm my own success story!
What do I do as a coach?
• I serve as an advocate for my clients in their journey to create their dream life. While you may be over the moon about deciding to start taking the steps to improving yourself and your life, your friends and family may not always understand or be on board with your new adventure. I'm here to be your cheerleader, your support, and your sounding board as you work towards creating the life (and in this case, the home) you've always dreamed of.
• I listen. Plain and simple. I want to hear EVERYTHING about your home and your life. All the ups, downs, positives, negatives, and everything in between. From there I have a clear picture on the things we can modify in your home, the way you live and use your home, and how you show up for your home and your life that will spell out the steps you need to take to get the transformation you are seeking.
• I help you modify your mindset and how you perceive your thoughts, beliefs, emotions, and actions so that you can finally become unstuck and get the things you truly want. I bring about a new perspective to help uncover the 'blind spots' that have kept you spinning in circles, repeating the same behaviors or decisions that have held you back from getting what you want.
• I serve as a third-party, non-biased, neutral resource for help and advice. Often when talking specifically about our home, there is a difference of opinions between partners that leads to indecision and inaction. I frequently help clients work their way out of these traps quickly and effectively by advising from the perspective of the neutral party in the equation.
• I give you access to all of my knowledge, experience, and expertise. I'm a trained interior designer who has worked on high end commercial projects and also as a residential design consultant. I've helped countless friends, family, and clients conceptualize, design, renovate, decorate, organize, and develop their homes. More importantly, I've lived through my own transformation to create a home and a life I love using the exact concepts that I teach in my coaching.
---
Community and Support: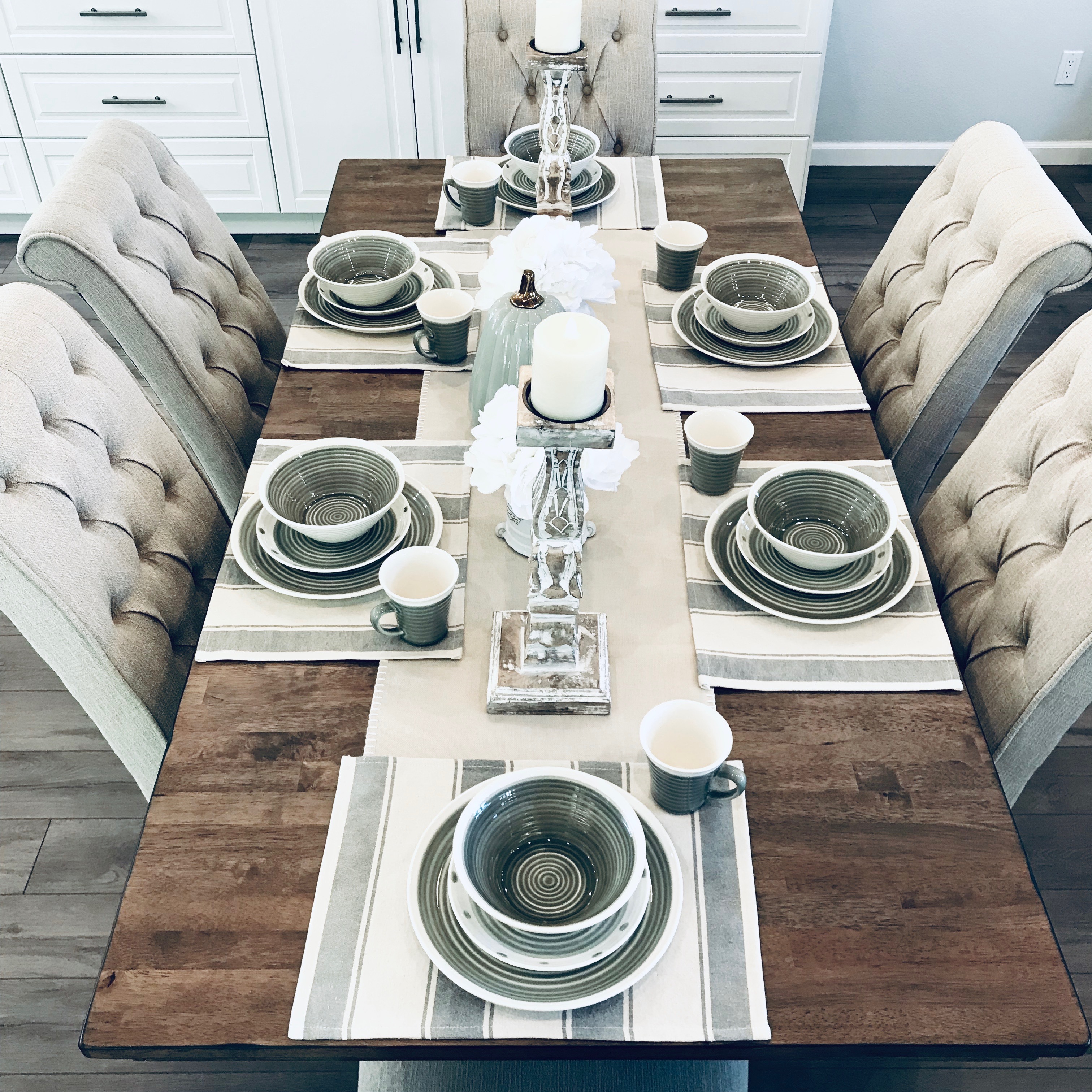 You will have lifetime access to the 'Stylize Your Home' Private Facebook Group. Here, you will be able to receive quick advice and help from me along the way as well as chat and share with all the other wonderful past + present women in the program. Give and get support along your transformational journey!
---
Are You Ready to Create A Home + Life + Lifestyle You Frekin' LOVE???
I'm so excited to share my knowledge and experience about creating a home you love with an excited and engaged community of women. Let's get started!!!